Cues n Views
Index Page:
Index
The Cues n Views Links Page

---

Cues n Views Recommended Links to other cue sports Web Sites.

If you have a cue sports Web Site, and wish to have a link on the Cues n Views Links Page please e-mail David Smith for details.
This site has been put together by Roger Lee & designed by Stuart Bennett .
Roger has been a collector of Billiards and Snooker memorabilia for more than 30 years, and for the last 7 years, has organised the Heritage Room, at The Crucible Theatre, Sheffield, for the duration of the Embassy World Professional Snooker Championship, on behalf of the World Snooker Association.
Robin Cues have been making and repairing Snooker and Billiards cues for over 20 years. Cues are hand made to individual customers requirements from carefully selected materials.
Local Company, Classic Cues - makers of fine handmade snooker cues, cases and accessories.
Peradon - makers of fine Billiard cues since 1885 Cue Wizard is brought to you by Peradon, who have been manufacturing English Snooker and Billiards cues since 1885. "design and order your own cue".

Dave Brown's company is called Craftsman Cues and is situated at Kippax between Leeds and Castleford.
Dave makes cues and cases. His range of cues is one of the most extensive in the country.
Craftsman Cues often has a selection of old cues and a full size table to try them out on. I have bought cues from them and have always been highly satisfied with the product and its reasonable prices.
I recommend that anyone who is considering taking the game up seriously should pay Craftsman Cues a visit and get hold of a cue of their own.
Please feel free to mention that you heard about them from David Smith's Cues n Views Web Site.
The Snooker Games Web Site is well designed, with good navigation links on every page. Content is of high quality with good tips on technique and a question and answer section.
Quick Games - home of the Snooker Game "QuickSnooker" - it's a fast and fun simulation of the game. You may play against the computer or against one of hundreds of players on-line.
J Mike Young's display of cue sports memorabilia; cards, advertisements and matchbooks from all cue sports. The card collection includes trading cards (packaged with tobacco, tea, margarine, candy, chewing gum, ice cream, cereal, etc.), Victorian era trade (advertising) cards, thin paper issues (typically from Spain, Germany and the Netherlands), telephone cards and collectible stickers, but only a few select postcards
Cues n Views - Top Spot Snooker Club Flyer


Top Spot
Snooker
Club
Read the Cues n Views Top Spot Snooker Club Advertorial Feature.
If you are seeking a new cue, and want something a little different from the cues that we often see in the snooker clubs on a day to day basis, perhaps you might like to make contact with the company Master Cue in Thailand.

Read the Cues n Views Master Cue Advertorial Feature.
Pool tables - Main UK BCE suppliers - Worldwide Suppliers of Pool, Snooker, Football Tables and other games room equipment - based in Bristol UK.
Raven Custom Cues. Specializing in high quality hand-crafted pool cues.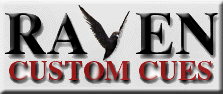 Alice Walker is webmistress of AntiquesPeople.com; a valuable antiques information resource Web Site.
Cues n Views Sponsor - AMAZON.
Cues n Views Sponsor - GOOGLE.
I cannot guarantee the quality of the Web Sites registered with the UK Snooker Billiards & Pool Web Sites Web Ring, The Snooker SiteRing and The Snooker Ring, but you may find them of interest.
The UK Snooker Billiards & Pool Web Sites Web Ring is going quite strong, they have recently re-designed their navigation bar.
The Snooker SiteRing is a new Web Ring, therefore not many Web Sites are registered.
The Snooker Ring is sort of dead, well, perhaps not the ring, but Ring Master Michael Bingmert's involment, he does have plans to do something about it in the future, but hardly soon. The Snooker Ring is therefore not accepting any new registrations.
The Greatest Pocket Billiards sites on the Web Ring of sites is for the Billiards and Snooker enthusiast. Member sites offer information on cues, tables, instruction, books, posters. They are informative and entertaining. This Web Ring has a strong American Pool emphasis.