Advertorial Feature
I recently obtained a Robin Cook cue via a friend of mine from Peterborough, it is a single piece cue and looks quite like an old style Burwat Champion cue from the firm Burroughes and Watts.
The cue is decorated with two front facing splices, one is Maple and the other a lovely red piece of Coca-bola.
The ebony that Robin has selected for the butt is very nice and could not be more black in colour, which as far as I am concerned is a mark of quality and looks very pleasing to the eye.
The shaft of the cue is also well done with a steady graceful taper, this has meant that the strength and weight distribution are both maintained to a high standard.
Interestingly the badge is different to any other cue that I have seen, it is circular with a gold coloured ring around it. The badge is extremely well set in to the butt of the cue and is so flush that no lip can be detected whatsoever, this demonstrates a well developed attention to detail from the maker and a great pride in the final finish of the cue.
I recently took the cue to a friend who makes cues and he said "this is an extremely well put together piece of work", high praise indeed I think.
Robin makes cues on an individual basis, and an appointment with him may well prove beneficial.
I hope that this little feature has helped to make you aware of some of the less well known makers around today.
David Smith
To contact Robin Cues, please e-mail:
or write to the address shown below:
Robin Cook
Robin Cues
13 High Street
Carlby
Stamford
Lincs
PE9 4LX
Tel: 0177 859 0458
Mobile: 0793 957 8048
Coutts Cues & Robin Cues
limited edition (ten only) Snooker cue
Coutts Cues and Robin Cues have joined together to make a very limited edition (ten only) Snooker cue each individually numbered with a certificate and complete with matching mini butt and extending extension.
By joining forces Coutts Cues and Robin Cues are able to use the best of both modern and traditional techniquies (over 40 years experience between Coutts Cues and Robin Cues).
Each shaft is hand planed over a period of at least a year. The ebony has been picked for its character of grain and over spliced with olive wood and red veneers then oil finished (no lacquer in sight!!) the splicing is nice and even top and bottom. 58" butt 9.2mm tip 30.2mm butt 16 3/4oz
A cue not to be missed, a collectors item in years to come!!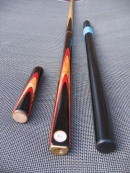 Limited Edition cue
Advertorial Feature